The economy is slowly rebounding, and engineers have cause to celebrate. After not budging for years, their salaries have increased for the second year in a row, according to our annual survey. And the positive news does not stop there. The average bonus has also increased, and job satisfaction is at an all-time high.
This year, the average engineer is making $96,813 per year, versus $93,465 last year. Sixty-nine percent of engineers have had an increase in their base annual salary from 2011. Only 2 percent have experienced a decrease in pay, which is down from last year's 4 percent. The remaining 29 percent of engineers said their pay remained the same.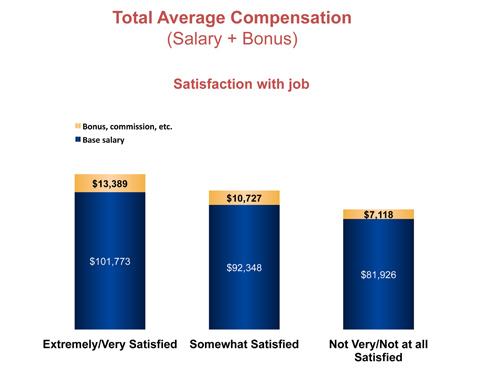 The average expected bonus this year is $11,906. Last year's average was $9,440. Seventy-two percent of engineers said their bonus will stay the same, while 16 percent said it will increase from last year.
Engineers working in the Southwest (Calif., Nev., and Ariz.) are bringing in the most money: an average of $110,101 per year. Those working in New England (Me., N.H., VT, Mass., R.I., and Conn.) come in second, with $106,846. Engineers in the Midwest (Mich., Ohio, Ken., Tenn., Ind., Wis., Ill., Iowa, Mo., N.D., S.D., Neb., and Kan.) bring up the rear, with $88,838. The only other region where engineers are not breaking six figures is the Southeast (N.C., S.C., Ga., and Fla.), with $94,350.
Your job discipline will adjust the amount of money you are bringing in. Engineers working in electronics make the most annually; their average salary and bonus come in at $110,782. Software engineers are a very close second, with $110,661.
The semiconductor industry offers the highest average salary ($115,772) and an average bonus of $17,546. The defense systems industry comes in second, with an average salary of $109,797 and an average bonus of $13,988.
Since you spend the majority of your time at work, it is important to enjoy what you do for a living. Luckily, 56 percent are extremely or very satisfied with their design engineering career. Factors that contribute to satisfaction in the workplace include problem solving, technical challenges, and the opportunity to be creative. More specifically, the engineers we surveyed cited continuous learning, being able to make real products, interfacing with people from other countries, and developing products that help people as reasons they are satisfied with their career.
Salary and satisfaction go hand in hand. Those who said they are extremely or very satisfied with their job are making the highest average salary ($101,773), with a bonus of $13,389. By comparison, the average salary was $92,348 for engineers who are somewhat satisfied and $81,926 for those who are not very or not at all satisfied.
When it comes to how challenging their job is, 52 percent said their job is extremely or very challenging. Factors contributing to the daily challenge include workload, balancing work with personal life, and keeping up with technology. Compared to two years ago, 42 percent said their job is now more stressful, and 44 percent said their stress level has stayed the same.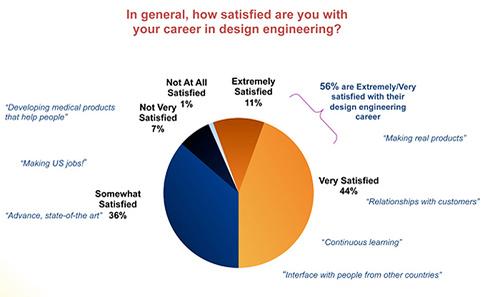 When discussing job security, 23 percent of engineers said they are extremely or very concerned, while 42 percent said they are somewhat concerned. On the other end of the spectrum, 6 percent said they are not concerned at all. Their comments included "There are plenty of jobs out there for good engineers" and "If I become unemployed I will find another job." The remaining 30 percent said they are not very concerned about their job security.
Forty-four percent of the engineers said their company has added personnel in the past 12 months, while 27 percent said they have seen layoffs or downsizing in the last six months. The average workforce reduction reported by engineers was 15 percent; the average reported workforce increase was 14 percent.
The grass isn't always greener on the other side, but it never hurts to keep your eyes open for new opportunities, which is exactly what 33 percent of engineers are doing. Fifty-nine percent of engineers said recruiters have contacted them in the past year. On the contrary, 44 percent say they are perfectly happy with their position.
The engineers we surveyed have been active in their career for an average of 18 years. They have worked an average of 13 years at their current company and nine years in their present position. In a typical week, they clock an average of 46 hours. Seventy-one percent said their hours have stayed the same in the past year, while 19 percent have been working more hours, and 10 percent have been working fewer.
When examining their role as an engineer, 71 percent said they are appreciated and respected, and 68 percent feel engineering is a respected profession. Eighty-three percent would recommend the field to their son or daughter. Only half feel their engineering skills are being fully used. Thirty-six percent feel that the role of an engineer is outsourced too often to China or other countries.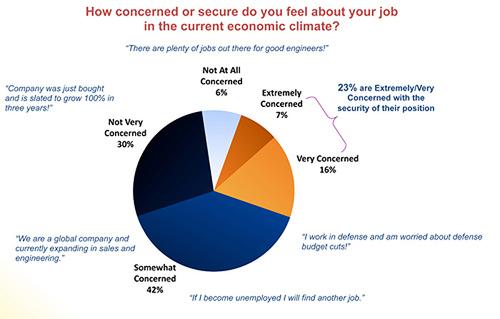 Now it's time to talk politics. Thirty-nine percent said they are extremely, very, or somewhat optimistic about President Obama's policies as they relate to the future of their career. "His support in the automotive industry speaks for itself," said one optimist. "Managed healthcare will lead to an expansion of the medical device and diagnostic industry," said another. One engineer praised Obama for thinking of the bigger picture.
But not all engineers are on the same page. Thirty-three percent are not very optimistic about the current presidential administration, and 28 percent are not at all optimistic. "This administration is going to ruin everything so many generations have built," said one pessimist. "I think the admin will sink us all," said another.
Keeping it neutral, one engineer pointed out, "Skilled people are always in demand."
Download the full survey, sponsored by Aerotek, by clicking here.